Specialized Mass Timber Project & Building Insurance Solutions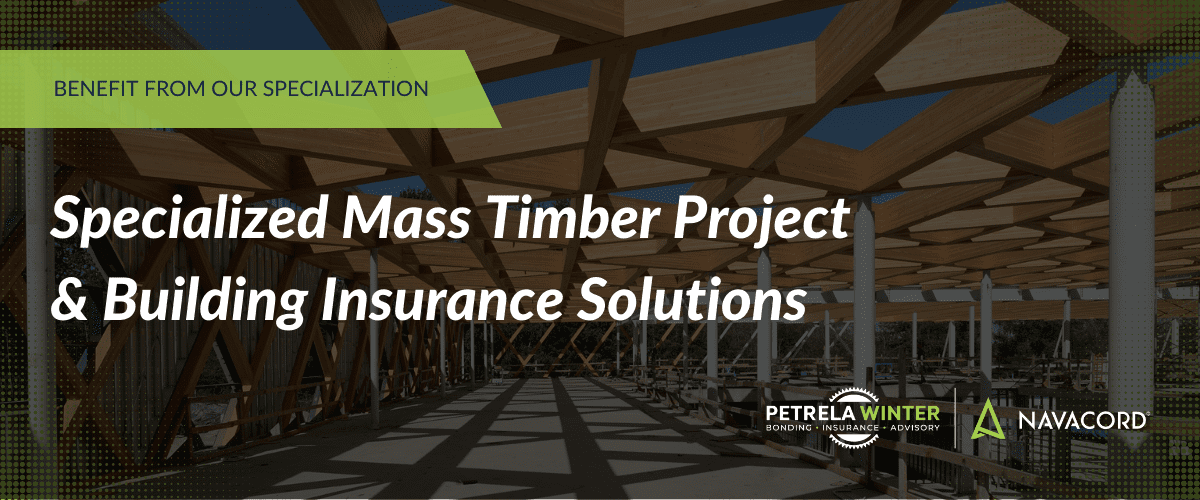 An evolution is happening in building construction, and Mass Timber is on the rise as an alternative material to traditional steel and concrete products. It is more readily available, cost & schedule effective, and naturally more eco-friendly. Studies have also shown that people feel more connected to nature in a building with exposed wood panels and roofing systems, giving it a more appealing aesthetic.
Despite these benefits, challenges remain when purchasing Builders risk insurance for these projects. Historically, rates and deductibles have been as onerous as wood frame construction, an approach that does not account for the many developments in Mass Timber construction that make it a superior insurance risk compared to wood frame projects.
As a specialist insurance brokerage, only servicing contractors and construction risks, Petrela, Winter & Associates understands challenges associated with mass timber construction and has specialized knowledge and key insurance company relationships to drive the insurance results your project deserves.
HIGHLIGHTS OF OUR CAPABILITIES
• Industry-leading pricing and terms
• Key partnerships with Canada's leading Mass Timber insurers
• Access to market capacity for even the largest projects
• Hands-on experience and familiarity with mass timber construction, including the fabrication process
• Exclusive specialization and 100% focus in construction
---
Contact David Rae, Account Executive for further details.
Email: drae@petrela.com W: 416-488-2522 C: 905-925-8107